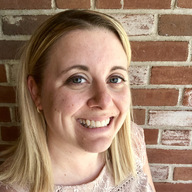 Hanover Park Teacher receives Anti-Defamation
League's No Place for Hate 'Gold Star Educator' award

Recipients of this award have gone above and beyond to make their school
community 'No Place for Hate'. Ms. Apicella has worked with the AntiDefamation League's No Place for Hate team throughout the year to make
sure our schools' activities were comprehensive, community focused and
had a lasting impact on the school climate. Despite all the hurdles and
hardships COVID has brought this year, she has proven to be a dedicated
coordinator who facilitated change for the entire community. Only 1 of 320
teachers/coordinators of the NPFH program in the NJ/NY area are selected
for this award annually. She was selected as 1 of 20 region Gold Star
Educators nationally.
See ADL's Gold Star Educator spotlight page, featuring Ms. Apicella:
https://nynj.adl.org/education...